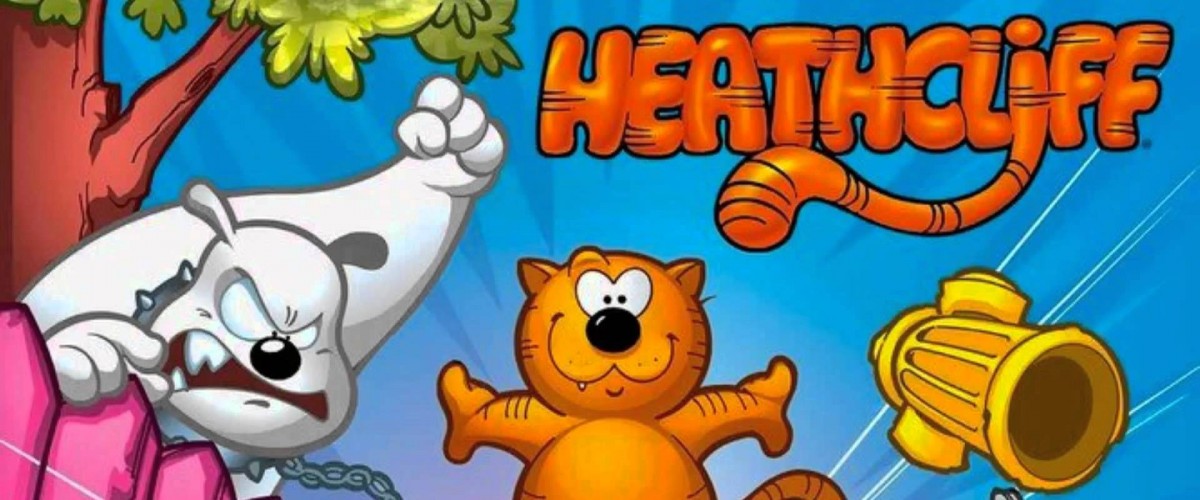 Historia
Heathcliff, atigrado y rechoncho como el famoso Garfield, es un gato doméstico al que le gusta la buena vida. Acostumbrado a los pequeños placeres que hacen más agradable la vida de un gato en la ciudad, Heathcliff es también un Don Juan. Sonia, una hermosa gatita del vecindario, es el objeto de sus desvelos.
Personajes
HEATHCLIFF
Es el líder del grupo de gatos callejeros, un gato naranja gato vagabundo cuya principal residencia era la mitad de un viejo avión, estaba precariamente en la parte superior de una pila de basura con vistas al patio. 
RIFF RAFFES
El líder del grupo de gatos callejeros, un gato naranja gato vagabundo cuya principal residencia era la mitad de un viejo avión, estaba precariamente en la parte superior de una pila de basura con vistas al patio. Riff Raff es un gato recio, pero suave se sentía muy elegante a pesar de que era un gato callejero. A menudo tenía disfrutaba de vivir con estilo, conseguir esquemas ricos. Él se muestra siempre vestido con una bufanda azul corbata y tabla que utiliza como un bastón, así como una gorra de béisbol hacia los lados. Riff Raff, tiene un grupo de gatos callejeros que lo siguen como: Héctor, Wordsworth, y Mungo. 
WORDSWORTH
Llamado así por el poeta William Wordsworth , Es un gato blanco que lleva patines de ruedas, audífonos, anteojos de sol de color amarillo, y habla en rima.
HÉCTOR
Es un gato un beige marrón y que habla con un acento Nueva Jersey ,Es el segundo en el mando, a veces se considera que él debe ser el jefe del grupo.
MUNGO
Es un gran gato gris, que actúa como un lacayo de la pandilla. Mungo se ve a menudo con una camisa roja con un sombrero rojo de invierno. Aunquees torpe.
Mungo tiene las habilidades de un sabio idiota en la cocina, y tiene fuerza asombrosa y destreza en la lucha. Mungo es un "gentil gigante" y alegre en la personalidad.
CLEO
Es la novia de Riff Raff, vive en una tienda de música. Cleo es una gata de color crema con el pelo rubio largo, y ella parece que ella está usando un leotardo y lleva un par de calentadores de color rosa.

Música
Capítulos
Temporada 1
1. The Great Pussini / Kitty Kat Kennels
2. Chauncey's Great Escape / Carnival Capers
3. Mad Dog Catcher / Circus Beserkus
4. Rebel Without a Claws / The Farming Life Ain't For Me
5. Heathcliff's Middle Name / Wishful Thinking
6. King of the Beasts / Cat Can Do
7. Smoke Gets in my Eyes / Much Ado about Bedding
8. City Slicker Cat / House of the Future
9. Spike's Cousin / For the Birds
10. Heathcliff's Pet / Swamp Fever
11. Teed Off / Monstro vs. the Wolfhound
12. Say Cheese / Cat's Angels
13. Meow Meow Island / Iron Cats
14. Family Tree / Who's Got the Chocolate?
15. Be Prepared / Cruisin' for a Bruisin'
16. Heathcliff Gets Canned / Whackoed Out
17. Brain Sprain / Cat Balloon
18. May the Best Cat Win / Comedy Cats
19. Revenge of the Kitty / Jungle Vacation
20. Hospital Heathcliff / Hector's Takeover
21. Going Shopping / Cat in the Fat
22. Wild Cat Heathcliff / Kitten Around
23. Cat Burglar Heathcliff / Lucky's Unlucky Day
24. The Blizzard Bandit / Harem Cat
25. Kitten Smitten / Young Cat with a Horn
26. The Gang's All Here / The Meowsic Goes Round & Round
27. Snow Job / Condo Fever
28. Heathcliff Pumps Iron / Mungo's Dilemma
29. Heathcliff's Double / Big Foot
30. Terrible Tammy / The Games of Love
31. Big Top Bungling / Space Cats
32. Lard Times / The Merry Pranksters
33. Spike's Slave / Scaredy Cats
34. Gopher Broke / A Camping We Will Go
35. Where There's an Ill, There's a Way / Yes Sewer That's my Baby
36. Soap Box Derby / A Better Mousetrap
37. Bamboo Island / Superhero Mungo
38. Butter Up! / Mungo Gets No Respect
39. Sonya's Nephew / Dr. Mousetus
40. Cat Food for Thought / Going South
41. Phantom of the Garbage / Junkyard Flood
42. Trombone Terror / The Other Woman
43. Pop on Parole / The Babysitters
44. The Siamese Twins / The Mungo Mash
45. Copa-ca-Heathcliff / Leroy's in Love
46. Used Pets / Search for a Star
47. An Officer and an Alley-Cat / Hector Spector
48. Service with a Smile / Junk Food
49. Boom Boom Pussini / Beach Blanket Mungo
50. Sealand Mania / Riff Raff the Gourmet
51. The Super M.A.C. Menace / Journey to the Center of the Earth
52. Heathcliff Reforms / Prehysteric Riff Raff
53. A Piece of the Rock / Divide and Clobber
54. Flying High / Debutante Ball
55. Heathcliff's Surprise / The Big Break In
56. The Catfather / The Big Swipe
57. Tally-Ho Heathcliff / Cleo Moves In
58. Granpda vs. Grandpa / The Big Game Hunter
59. The Great Tuna Caper / Peco's Treasure
60. The Baby Buggy Bad Guys / Riff Raff's Mom
61. Momma's Back in Town / Trash Dance
62. Claws / Hector the Detector
63. Raiders of the Lost Cat / Mungo Lays an Egg
64. The Home Wrecker / In Search of Catlantis
65. Star or Tomeow-meow / Soccer Anyone?
The DVD lists episode, May the Best Cat Win as first, and titles the episode Pilot.
Temporada 2
1. The Whitecliffs of Dover / Life Saver
2. Nightmare in Beverly Hills / The Cat in the Iron Mask
3. The Shrink / Brushing Up
4. Dr. Heathcliff and Mr. Spike / Time Warped
5. Spike's New Home / Mungo's Big Romance
6. The Cat and the Pauper / Mungo of the Jungle
7. In the Beginning / Catlympic Cats
8. Rear Cat Window / Cat Days, Ninja Nights
9. Something Fishy / Christmas Memories
10. Heathcliff's Mom / Hockey Pucks
11. Cat Day Afternoon / Hector Protector
12. Feline Good / Off-Road Racer
13. Spike's Coach / The Trojan Catillac
14. Heathcliff Gets Framed / Repo Cat
15. Missing in Action / Bag Cat Sings the Blues
16. It's a Terrible Life / Leroy Gets Canned
17. Hair of the Cat / Tenting Tonight
18. The Fortune Teller / Cottontails, Chickens, & Colored Eggs
19. Break an Egg / A Letter to Granny
20. The New York City Sewer System / High Goon
21. North Pole Cat / He Ain't Heavy, He's My Brother
Galería
 Pronto.